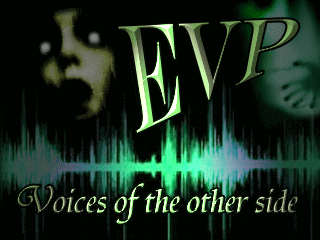 Electronic Voice Phenomenon, widely known as EVP's, are a huge topic in the world of paranormal (pseudo)science, especially with those topics having to deal with ghosts. EVP's are the recording of a "spirit voice," which can't be heard by the human ear but show up on electronic devices. This is often associated with the voices of the dead trying to communicate with the living. They are very popular, like in the hit TV show
Ghost Adventures
as they excite people by giving them a glimpse in to the unknown. It is said that EVP's can record voices that the human ear doesn't pick up on because ghosts communicate through electromagnetic energy and not sound waves.
EVP's have had a long history, beginning with Thomas Edison's attempt at creating a phonograph which could communicate with spirits of the dead in the 1890's. Over the past 120 years, many have attempted to catch their own EVP recordings and today nearly everybody has access to equipment that could aid in this, using devices as simple as a tape recorder. Just because EVP's have had a long history does not lend them credibility, however.
EVP samples are not reliable evidence of paranormal activity and not scientific, either. To begin with, the claims and samples are not really testable, falsifiable or repeatable. Also, samples are almost never collected under controlled conditions. Lastly, many EVP samples can be attributed to other things, like background noise, random white noise/interference on a radio, or apophenia, which is when people "spontaneously perceive connections and find meaningfulness in unrelated things," such as in the Rorschach Inkblot test.
Sources:
http://www.csicop.org/specialarticles/show/electronic_voice_phenomena_voices_of_the_dead
http://www.youtube.com/watch?v=h3JjOnClaV0