There lies a big historic house on Shore Road in Absecon known as the Dr. Jonathan Pitney House. The house which is now a bed & breakfast belonged to Dr. Pitney who is considered to be the "Father of Atlantic City". He is also responsible for erecting the Absecon Lighthouse and bringing a railroad to Absecon and Atlantic City. Dr. Pitney occupied the house from 1833 until he died in 1869. However, visitors to his home believe that he still resides there. Many guests and previous owners have reported a number of strange happenings. One woman was lying on the bed in the Caroline Room when she saw two men walk through the room and disappear. Another woman was staying in the Victoria Room where she saw a strange light coming from one of the drawers in the bureaus. The mysterious light got bigger and then it disappeared into thin air. The sound of a fife has also been heard coming from the little cottage outside of the house. Even though The Pitney House is considered to be one of the most haunted houses in Atlantic County, many individuals do not mind Dr. Pitney's presence because he is a friendly
spirit
.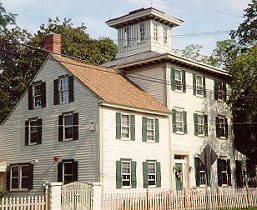 Many individuals believe that spirits haunt the Earth due to unfinished business in their past life. This is just one of several theories. Other theories on why a ghost may remain on Earth include traumatic deaths, guilt or regret that they may have experienced in their past life, or a strong connection to a loved one that is still living. Dr. Pitney may still reside in his current residence because he wants to make sure that his home does not fall into ill repair. He may also want to make sure that the town of Absecon which, he devoted much of his life to continues to grow and prosper.
Check out this website which lists a majority of the most haunted places in NJ!
http://www.theshadowlands.net/places/newjersey.htm
Have any of you visited any of these sites?