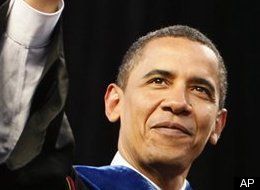 The 44th President of the United States of America was born in Kenya? Huh?

Conspiracy theorists, and what the media has classified as "birthers" believe that President Barack Obama in a natural born citizen. If you are not familiar with American politics, then this probably doesn't make any sense to you. Why should this matter? Well it matters because if you are not a natural born citizen, you cannot serve in the highest office of power.

Where did this conspiracy come from? Well, first you have to look at the evidence birthers present:

1) He has not presented a birth certificate.

-During his campaign, this rumor was flying around so he presented a certificate of live birth. While this isn't an actual birth certificate, it was issued by the state of Hawaii where President Obama was born. This is not good enough for birthers, they want the real thing. He still to this day has not presented it.

2) A Kenyan birth certificate proves he was not born here.

-A Kenyan birth certificate was uncovered "proving" that President Obama was born in Kenya and not Hawaii. It later came out that the certificate was a fake.

3) His grandmother said he was born in Kenya.

-President Obama's grandmother came out and said he was born in Kenya in an interview. Birthers believe that right there it is obvious he wasn't born here. But not so fast, the interview was cut short supposedly, and there is more to it. She wasn't actually saying he was born in Kenya.

There are even birth announcements from a Hawaiian newspaper when he was born. But then again if President Obama would just release the real thing, this could be put to rest. Since he hasn't, the conspiracy still goes on.